Having been founded in 1991, Hammer Muzik is one of the oldest independent music companies in Turkey. Our activities can be listed as follows.
Music is not something that we sell! It is more like something that we like, listen, live for and share with others who we like to call our friends!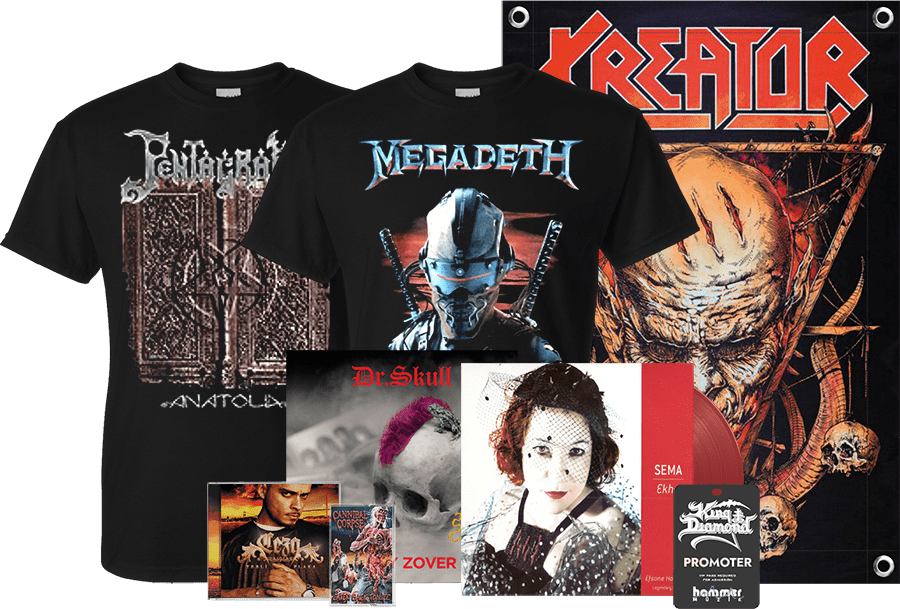 Record Label
Hammer Muzik started as a record label for Heavy Metal Music mainly and over the past years we have produced some of the best heavy metal albums coming from Turkey for bands such as Cenotaph, Comma, Radical Noise, Antisilence, Let It Flow, In Spite and few others. In 1999, we have also started releasing albums of Turkish rap music Artists and released top-selling albums for acts such as Ceza, Sagopa Kajmer, Nefret, Silahsiz Kuvvet and few others. In 2004, we have started releasing albums of traditional / ethnical Turkish Music artists and released albums for acts such as Sema, Zafer Erdas, Monolenium, Itri, Onder Bilge. For future we will keep releasing albums from these 3 musical genres.
Please browse all of our productions on our Discogs profile.
Retail & Mailorder
We have a metal shop located in Kadikoy / Istanbul where we sell our own products and a large variety of metal music CDs, DVDs, LPs and merchandise of different genres suchs hard rock, heavy metal, power metal, black metal, death metal. We also ship products to our customers living in other cities via mailorder.
Merchandising
We have recently started merchandising. So far we have manufactured the official merchandise t-shirts of our signed rap artist CEZA. Also as the first product for a non-Hammer Muzik signed artist, we have manufactured the 20th Year T-shirt of Pentagram, biggest Turkish Metal Band. We are planning to expand the merchandising business and manufacture many bands' merchandise products for the Turkish market.
Merchandise Concession Stands
With our experienced vending team, we run merchandise concessions stands for artist performing in Turkey on behalf of their merchandise companies. We have vended merchandise so far for artists and events such as; Madonna, Bon Jovi, Sonisphere Festival (Metallica, Slayer, Megadeth, Anthrax, Rammstein, Manowar, Iron Maiden, Slipknot, Alice Cooper, Mastodon), Eric Clapton, Judas Priest, Whitesnake, Motörhead, Limp Bizkit, Harlem Globetrotters...
Distribution & Wholesale
The distribution of Hammer Muzik products are being handled by ourselves throughout Turkey. We have a customer profile consisting of wholesalers, music chains and smaller music shops. Together with our own products, we also supply our distribution titles to our customers. Hammer Muzik represents numerous record labels from all around the world, for Turkey and distribute & sell their products here. Some of the companies we work with are: Metal Blade, AFM Records, Armageddon Music, Earache Records, Napalm Records, Spinefarm Records, Prophecy Productions, Black Mark, Relapse Records, The End Records, Unique Leader Records, Dynamic Arts Records, Firebox, Scarlet REcords, Frontiers Records, MTM Music, Lion Music and many other big or smaller companies.
Exports
Hammer Muzik exports our own products and also the ethnical, traditional and popular Turkish music releases of other Turkish labels (Tarkan etc.), that we have the international distribution rights, to our partners worldwide.
Concert Organization
Even though this is not one of the main activities of Hammer Muzik, we sometimes organize concerts for bands we like ourselves, if the conditions are all set for it. So far we have organized Turkish shows for bands like Overkill, King Diamond, Sepultura and Orphaned Land.
Partnership
Please feel free to contact us for all sorts of partnership.